Latest News
I very much regret the passing of Reggie Young, the greatest studio guitarist ever, just as Ace Records was on the point of releasing Reggie's Session Guitar Star CD, compiled by Bob Dunham with Reggie. (CDCHD 1537). Click here for details.
Red Kelly, a family friend with his wife Georgette, will continue to work on The Reggie Young Discography Project from Reggie's personal session logbooks. See Soul Detective.
We've also lost two great, never-to-be-forgotten Juke Blues magazine stalwarts, Mick Huggins and Bill Moodie.
Recommended reading: "Shake Your Hips: The Excello Records Story" by Randy Fox (BMG Books)
I am deeply saddened by the loss of Cliff White and Stuart Colman, great English friends, researchers (and so much more) in the first few months of 2018.
Read more at Wikipedia - Cliff White - Stuart Colman
Also, in December 2017, Alan Yates, of Faringdon, Oxford, record collector, longtime member of the Duane Eddy Circle and loyal cricket supporter.
The South Louisiana library has been expanded by the publication of three important books in 2016-17: Martin Hawkins, "Slim Harpo: Blues King Bee of Baton Rouge" (Louisiana State University Press); Julian Piper, "Blues from the Bayou: The Rhythms of Baton Rouge" (Pelican, Gretna, LA); Ron Yule, "Cajun Dancehall" (Fiddle Country Publishing, De Ridder, LA).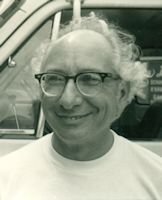 Cosimo Matassa, 1973 - (c) John Broven
The John Broven-supervised Tampa Red double CD was released in June 2015 by Ace Records. Features the fabulous late 1940s-early 1950s blues 'n' boogie sessions with wonderful Chicago blues pianist Little Johnnie Jones, alongside earlier 1940s sessions with Big Maceo. First time many of the 50 tracks have been officially released from master tape and acetate. Click here for more details.
It is gratifying to see the many accolades to Cosimo Matassa, the trendsetting New Orleans recording engineer, who died on Sept. 11, 2014, at the age of 88. For my tribute, which appeared in Now Dig This magazine and the Cosimo Code website.

As it happens Ace Records released the "Cracking the Cosimo Code: 60s New Orleans R&B And Soul" CD (CDTOP 1402), compiled by Red Kelly, John Ridley and myself, just before Cosimo passed. The first pressing sold out within seven days. More details.
~~~~~~
The Library of Congress has acquired the U.S. 45s and 78s from the John Broven record collection, together with his archive (including taped interviews). The collection will be available to the public in due course.
~~~~~~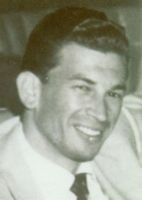 Joe Bihari from John Broven collection
Am very sad to announce the passing of record man Joe Bihari, co-founder of Modern Records, on Nov. 28, 2013, in Los Angeles at the age of 88. Joe was always available for treasured information for my past Ace Records CD projects and, of course, for "Record Makers and Breakers." I will miss him on many levels.

Art Rupe, founder of Specialty Records and just about the last of the surviving pioneering record men, has commented to me as follows: "I am saddened to learn of Joe Bihari's passing. I didn't know Joe very well, because I mostly interfaced with Jules and Saul, his older brothers. However, I was very friendly with all the Biharis, and now have only fond memories of a unique family".

For detailed obituaries, please see:
New York Times
Times-Picayune, New Orleans
Washington Post

The transcript of John Broven's interview with Modern Records' Joe Bihari at the ARSC 2011 convention in Los Angeles appeared in the spring 2012 issue of ARSC's journal. There is now an audio file of conference which you can find here.
~~~~~~
New Golden Crest section now up on this website!


The Cosimo Code. New website from John Broven, Red Kelly and John Ridley devoted to the 1960s and 1970s recordings from Cosimo Matassa's Cosimo Recording and Jazz City studios in New Orleans


Ace Records has released "Master of the Cajun Accordion" by Nathan Abshire & his Pine Grove Boys (CDCHD 1348) from Swallow Records, compiled by John Broven with notes by Lyle Ferbrache and contributions from Ann Savoy and Neal Pomea. A related two-part article by Ferbrache is appearing in the upcoming Blues & Rhythm issues 280 and 281.


Ace Records has released "Memphis Boys: The Story of American Studios" (CDCHD 1330), the first-ever compilation devoted to Chips Moman's great studio and musicians – and based on Roben Jones' book of the same name. Compiled by John Broven, Roben Jones and Tony Rounce.


Ace Records has now released the final two volumes to complete a John Broven-compiled 5 CD set, "Fats Domino: The Imperial Singles". Vol 4 / Vol 5.


In memory of three great English black music fans and friends: Graham Ackers (who passed on May 19, 2012), Roy Simonds (Dec. 1, 2012) and Tony Wilkinson (Feb. 14, 2013).


"The Best of Golden Crest" double CD is available on Ace CDCH2 1254, with compilation and notes by John Broven. More details at Ace Records.


Juke Blues article by John Broven, with Richard Tapp, on record man Sol Rabinowitz and Baton Records is available now in issue 72.

Links
Ace Records Limited
"The UK's leading reissue label since 1978" - CD reissues of the highest standard.
Bear Family Records
"Europe's No. 1 source for American-style roots music, country, rock 'n' roll, folk and blues"
Very best in CD and box set reissues; includes mail-order facility.
Floyd's Record Shop
For all things Louisiana music.
Blues & Rhythm: The Gospel Truth
"Europe's leading specialist blues, R&B, gospel and doo wop magazine"
Approaching 300 issues (10 in a full year) and no signs of flagging.
Juke Blues
Juke Blues publishes quality coverage of all types of African-American blues and traditional music, from the city to Southern soul, from vintage R&B to gospel and zydeco, with just a touch of other related genres. Each issue is a goldmine of information.
Now Dig This
"The premier rock 'n' roll magazine, monthly."
John Tefteller/Blues Images
"Classic blues calendars, posters, CDs, T-shirts and blues songs." Plus regular auctions of highly collectible records.
Paul Harris Photography
Over 30 years of photographing American roots music artists.
To view lists of photographs available please go to http://paulharrisphotography.blogspot.com/
Paul Vernon
"Last Swill and Testament: The hilarious, unexpurgated memoirs of Paul 'Sailor' Vernon" (Music Mentor Books)
The subtitle hints at contents. Also a fascinating social study of the landscape in which young blues fans grew up in post-war Britain.
Shane Bernard
"Swamp Pop: Cajun and Creole Rhythm and Blues" (University Press of Mississippi).
The dedicated story of Louisiana's swamp pop music.
www.cajunculture.com and www.amazon.com
Sir Shambling
Southern Soul Heaven - articles, artist biographies and great music of the more obscure kind.
Soul Detective
The informative site for the best in southern soul from Red Kelly, the compassionate Soul Detective.
http://souldetective.blogspot.com/
Bill Dahl
A tribute to postwar roots music of all kinds from Chicago-based author and prolific CD compiler/note writer.
http://billdahl.com/
Martin Hawkins Music
Research into rock music history from a personal perspective, including his first-rate books.
www.martinhawkinsmusic.com
John Broven does not necessarily endorse the contents of these linked sites and he disclaims all liability arising from the information or materials contained on any linked sites.