Record Makers and Breakers
Voices of the Independent Rock 'n' Roll Pioneers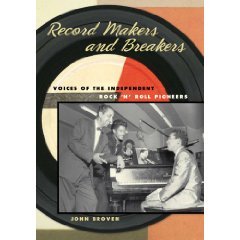 This engaging history of the independent rock 'n' roll record industry from its raw regional beginnings in the 1940s with R & B and hillbilly music through its decline in the 1960s combines narrative history with extensive oral history material from numerous recording pioneers. This exceptional volume contains the author's interviews with major players in the independent music scene, including Joe Bihari of Modern Records; Marshall Chess of Chess Records; Jerry Wexler, Ahmet Ertegun, and Miriam Bienstock of Atlantic Records; Sam Phillips of Sun Records; Art Rupe of Specialty Records; and many more. Behind-the-scenes sources include London Records' remarkable Mimi Trepel; music publishers Gene Goodman and Freddy Bienstock; The Cash Box trade magazine editors Ira Howard, Irv Lichtman, and Marty Ostrow; disc jockey Bill "Hoss" Allen of Radio WLAC, Nashville; recording studio/label owner and erstwhile teenage jukebox operator Cosimo Matassa; and many, many others.
Publisher: University of Illinois Press (15 Mar 2009) - Hardcover/Paperback: 584 pages
Customers in USA/Canada - Buy NOW from amazon.com Kindle version
Customers in UK and Europe - Available from Amazon.co.uk
Customers in UK - Kindle version
If you require a signed copy direct from the author, please contact him for a quote (including postage) here.

Note - Purchasers living in Europe will be charged in your local currency at the rate of exchange applicable at the time of purchase.
Interview with John Broven by David McGee on book's publication
"A treasure. . . . Invaluable to scholars of the music industry and the rock 'n' roll era."
—Don Cusic, author of Johnny Cash: The Songs
"Replete with ground-breaking research—a must read about the record industry."
—Robert Pruter, author of Doowop: The Chicago Scene and Chicago Soul
"John Broven is uniquely placed to write about the 'record men.' Such a welcome and
authoritative study is long overdue."
—Paul Oliver, broadcaster, lecturer, and author of The Story of the Blues
"The record men might have operated in a cut-throat business, yet at the same time they
were all part of one big music industry family. This was the era when the very fabric of
American culture was being woven."
—Stuart Colman, record producer, broadcaster, and author of They Kept on Rockin':
The Giants of Rock 'n' Roll
"When the music business was as much fun as the music, it was the preserve of crazed,
colorful characters. Their rarely told stories are recounted deftly here."
—Colin Escott, author of Good Rockin' Tonight: Sun Records and the Birth of Rock 'n'
Roll and Hank Williams: The Biography
"John Broven didn't just track down many of the men who ran independent record labels,
but he has the friendly manner that encourages them to open up and the knowledge
to know what questions to ask."
—Charlie Gillett, record man, broadcaster, and author of Sound of the City: The Rise of
Rock and Roll
A volume in the series Music in American Life