At last the story of the Montells, long a mystery among girl group record collectors and researchers, can be told after member Mary Parsons contacted Golden Crest Records via the Internet.

In 1962-63 the Montells, students at Roosevelt Junior-High School in Long Island, N.Y., were founded. The group consisted of Mary Parsons, Sheron Regular and Antoinette Robinson, and sang in church and school choirs, also at glee clubs. Soon Antoinette left to be replaced by Edythe Flemings and Mary's sister Charlotte. The Montells performed at dances and sock hops as well as other school functions and events around Long Island. Their main influences were the Shirelles and the Chantels.
One day Sheron was scanning the newspapers and came across an advertisement for "black female singers." After calling the number, they were soon in touch with Charles Podell and Golden Crest Records of Huntington Station, N.Y. Thus the Montells were on the map.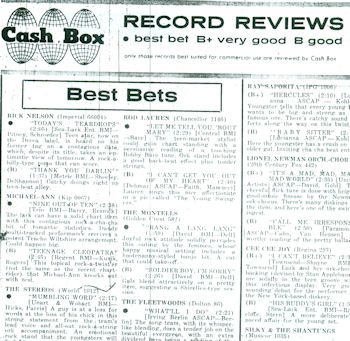 The first release, "A Rang A Lang Lang"/"Soldier Boy, I'm Sorry," was reviewed in Cash Box magazine on Nov. 9, 1963:
The Montells (Golden Crest 582)
"A Rang A Lang Lang": Joyful rock attitude solidly pervades this outing by the femmes, whose happy musical setting includes a hootenanny-styled banjo bit. A cut that could take off.
"Soldier Boy, I'm Sorry": Gals blend attractively on a pretty item, suggesting a Shirelles-type session.
At the time, the No. 1 record on the Cash Box Top 100 chart was "Deep Purple" by Nino Tempo & April Stevens with girl groups the Ronettes at No. 6 with "Be My Baby" and the Dixiebelles at No. 19 with "(Down At) Papa Joe's"; the Crystals' blockbuster "Then He Kissed Me" was on the way out at No. 81.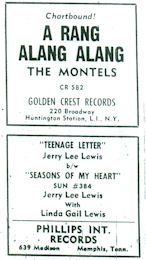 On Nov. 30, 1963, Billboard magazine carried an advertisement for "A Rang A Lang Lang": "Don't Ask Us, Ask WABC, WMCA, WINS, WXYA, WPRO: It's A Hit." On the same day, a Cash Box ad declared the record was "Chartbound!" Every major radio station in the New York area was playing the song and promoting it, Mary said. The Montells were on their way.
After extensive promotion and radio endorsement, Charles Podell (known professionally as Charles Dell) felt it was time to head back into the studio. In early 1964, "My Prince Will Come" and "Gee Baby, What About You?" (a favourite Shep and the Limelites song) were recorded.
The top side was reviewed by Cash Box on April 11, 1964:
The Montells (Golden Crest 585)
"My Prince Will Come": The girls have a swingin' uptempo number here for Golden Crest (currently represented on the chart with the Wailers' 'Tall Cool One') that could bust wide open. This record builds to a strong finish, and that finish could be a high sales figure.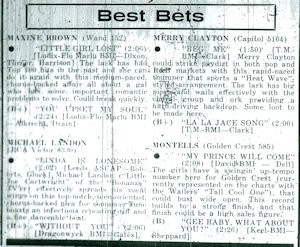 This was the week that the Beatles dominated the Cash Box Top 100 with the first four records: "Can't Buy Me Love" at No. 1, followed by "Twist And Shout," "She Loves You" and "I Want To Hold Your Hand."
The Montells' various lead vocalists were:
"A Rang A Lang Lang" - Mary Parsons and Sheron Regular;
"Soldier Boy, I'm Sorry" - Sheron Regular;
"My Prince Will Come" - Mary Parsons;
"Gee Baby, What About You?" - Edythe Flemings.
Mary remembers that the studio musicians were of mixed race, and the engineer was Golden Crest founder Clark Galehouse.
So why did the Montells' records, good that they were, fail to chart? In the case of "A Rang A Lang Lang," President John Kennedy was assassinated just as it was breaking – and all the air went out of the music business for a short while. Then, Beatlemania apart, "My Prince Will Come" had the bad luck to be released just as Golden Crest's promotional resources were diverted to concentrate on a second Top 40 chart run by the Wailers' "Tall Cool One."

Jerry Wexler, of Atlantic Records, heard the Montells' records, was impressed and wanted them to become part of the Atlantic family. Matt Parsons, who turned out to be an unknown relative of the two sisters and would manage the group, took them to Atlantic; the girls had met him at Golden Crest through Charles Dell. This new connection led Mary and Sheron to sing background vocals with several Atlantic artists produced by Bert Berns, including the Drifters' "Under The Boardwalk" hit.
With research by Ace Records' consultant Mick Patrick, Mary has confirmed that the group recorded for Bert Berns as the Pussycats: "Come On And Ska"/"You May Be Holding My Baby" was recorded on Aug. 4, 1964, and released on Keetch – a short-lived Berns subsidiary label to Shout and Bang. (Keetch was the name of Berns' pet cat, hence the Pussycats; see Ace CDCHD 1251 for the excellent "My Baby" side, with arrangements by Teacho Wiltshire and featuring the great Eric Gale on guitar.)
Divisions started within the Montells over this name change and then another to the bizarre Witches and the Warlock; the latter group was formed by Charlotte Parsons and Raymond Berry. Mary and Sheron called it quits after a session for Matt Parsons' Sew City label due to these arguments and management problems. Mary, with her "seven octave" voice went on to record commercials and continue doing studio background work, including a Herman & the Hermits session; Sheron left New York for Washington, D.C., and did night club work there; Edythe moved to nearby Virginia.
Today, Mary is a retired nurse teacher and runs a limousine business in Virginia Beach, Va.; Charlotte, who became a fashion model and ran her own clothing business, lives in Virginia Beach, too; Sheron is a hall of fame poetess living in Brooklyn; and Edythe Flemings Hall is a former Prince George's Chapter NAACP president in Maryland from Upper Marlboro, Md.
If luck had been on their side, the Montells could have been as big in the early-mid 1960s as the Shirelles, the Crystals and the Ronettes. Although it was not to be, their Golden Crest recordings confirm their quality as a top girl group of the period. At least their identity is no longer a secret and their recordings can still be savoured.
(Based on biographical information by Mary Parsons and Sheron Regular supplied to John Broven, January-March 2011)
The Montells' Golden Crest recordings are available on the following CDs:
"A Rang A Lang Lang" – "The Best of Golden Crest" (Ace CDCH2 1254)
"Soldier Boy, I'm Sorry"/"Gee Baby, What About You?" – "Altar Of Dreams"
(Early Bird EBCD 1001)
"My Prince Will Come" – "Teen Scene!" (Dee-Jay Jamboree DJ-CD 55113)
All enquiries through Contact page.