Roland Bennett, Sweet Root and The Rockin' Whalers
A Kansas R&B Mystery Solved by Dina M. Bennett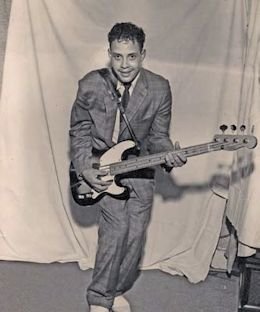 From an article originally published in Blues & Rhythm No. 269, May 2012.
Chris Bentley, through his 'Chris's Curiosities' column (No. 57, B&R 244, November 2009), threw down the gauntlet in a big way when he spotlighted 'Tore Up'/'Little Wheel' by Roland Bennett and Sweet Root, respectively, on a most obscure 1963 Vantage 45 from Albuquerque, New Mexico. Remembering that Bennett had recorded for the Long Island based Shelley label, named after my wife and founded by her father Clark Galehouse, Chris approached me for the requisite enlightenment as part of his research. Sadly, I had nothing to offer except a porous theory that Bennett could have been part of Lillian Claiborne's Washington, D.C., stable of artists, several of whom recorded for Shelley and its parent Golden Crest.
Leaving Chris floundering in the dark, I received a surprise email a few months later from disc jockey friend and collector, Rex Doane of Radio WFMU New York, containing a simple message from a Dina Bennett, as follows: "My uncle was Roland Bennett from Roland Bennett and his Rockin' Whalers: 'Money Crazy' (Shelley). My father, Dick 'Sweet Root' Bennett, is the vocalist and harmonica player."
Thus Dina and I started corresponding, and with the help of father Dick's recollections and her own ethnomusicological background, we are able to satisfy Chris's curiosity while shedding new light on the little known r&b scene in Kansas state. To think it all began with the B&R columnist's Sherlock Holmes-type inquisitiveness: "It's curious that Roland Bennett's two known 45s were released on labels at almost opposite ends of the 48 states!" Let's look at the facts as presented by Dina Bennett and her father Dick.
John Broven
Roland Bennett and The Rockin' Whalers were an African-American r&b band from Topeka, Kansas, active in the 1950s through the 1970s. Formed by Roland H. Bennett Jr. (born on 4th July, 1931, Topeka, and who died on 27th March, 1986, in Topeka) who served as bandleader and saxophonist of the group, the principal personnel was Roland's younger brother Dick A. Bennett (born on 29th March, 1934, Topeka), also known as 'Sweet Root' or 'Daddy Sweet Root' on vocals, harmonica, and bass; and Topeka natives James Ellis, electric guitar; Thomas 'Eyes' Hagan, piano; and Herbert Shufford, drums (last two also deceased).
THESE GUYS ROCK, MAN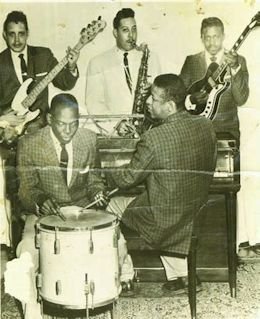 Roland Bennett and the Rockin' Whalers was a typical r&b band of the day. All the members of the band played instruments in high school and decided to get together and form a band in their spare time.
The group started around 1951 and played a hybrid form of musical styles that were popular at the time, drawing from the blues, boogiewoogie, swing and dancehall traditions, also gospel music. As the 1950s advanced, they utilised the rock'n'roll beat popularised by Little Richard, Chuck Berry and Fats Domino. The band began their musical journey playing local gigs at high school dances, local clubs, community social events, and neighbourhood gatherings in and around Topeka – the state capital of Kansas some sixty miles due west of Kansas City. According to Dick Bennett, the origin of the band's name, the Rockin' Whalers, can be separated out for definition.
On the one hand, 'rockin'' comes from the fact that once people heard the band, they made comments such as, "Y'all make everything rock; those guys rock, man."
On the other hand, 'whaler' means blasting in musical talk. Bennett adds, "Whalin' means when you play for people you gonna give all you got. So we whaled vs. wailed."
Born into a musical family through their pianist father Roland H. Bennett Sr., Roland Jr. and Dick both took up music in school. Roland Jr. mastered both the tenor and baritone saxophones and played in a U.S. Army band during the 1950s.
He was influenced by Louis Jordan, Lester Young and Coleman Hawkins. With regard to Dick, one of his early musical influences was an older African-American soldier named Pop Billings whom he met while serving in the Army at Fort Benning, Georgia, during the late 1950s. Dick remembers, "Pop Billings looked just like Muddy Waters; he stayed in the Army for forty years and was called a professional private. He played the harmonica every evening in the barracks and had played with several blues musicians and singers before entering the Army." (1)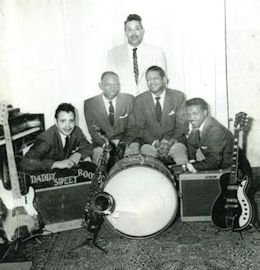 During this time, Dick not only learned to play the blues, but also mastered the r&b top forty of the day: "When I came back out of the Army I joined the Whalers as the bassist, harmonica player and blues vocalist."
Originally the band featured a female vocalist named 'Bun' (2) who copied the r&b style of vocalist Ruth Brown. As well, Thomas Hagan sang and played in the New Orleans-centred piano style that was created and popularised by performers Fats Domino and Little Richard. Eventually, Dick began to sing those songs, including Little Richard's 'Jenny, Jenny' which was a top ten Billboard pop hit in summer 1957. Dick states, "I came back from the Army and the first night the band went out, I did 'Jenny, Jenny' and blew my harp."
TOPEKA, KANSAS
The band was well known in the Topeka area. The family home at 1183 Lane Street served as the location for the band's practice sessions; it was situated in the heart of Tennessee Town, a section of Topeka where a large number of African-Americans who migrated from Tennessee and Kentucky settled. "We practiced right in our front room on Lane Street and all the people in the neighbourhood would come around and be on the porch," says Dick Bennett. After Roland and his wife bought a new home a few blocks away, the band would relocate their practice sessions to Roland's basement.
After World War II, 4th Street in Topeka had a thriving black business district, with a strip that was home to various restaurants, pool halls, clubs, theatres, hotels and doctors' offices. (3) The Roland Bennett band performed at the Ritz Terrace club on 4th Street where touring artists like Ray Charles would play. At one time it was known as the Apex Theatre, before becoming the Ritz; it was the only cinema in town that black patrons could attend. Another Topeka venue for the band was the Meadow Acres Ballroom at 2950 S. Topeka Blvd. (now Best Western Meadow Acres Motel).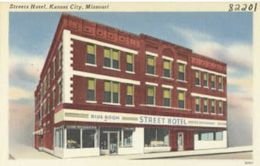 ON THE ROAD
As the popularity of the band grew, it became necessary to travel and take their musical talent beyond Topeka. Soon the group purchased an old Packard bus for $800 that a semi-pro baseball team owned in Topeka. Dick Bennett remembers, "It was an old 1952 Packard that we painted white with our name Roland Bennett and the Rockin' Whalers in blue letters. It had four doors in it and it had the thing on the top [luggage rack] that we could put our instruments in. We drove that for years, and even hired us a driver."
The band was usually booked throughout the year and played all around Missouri, Nebraska, and Illinois. Dick Bennett states, "We started in Kansas City, Missouri, at the Orchid Room – on 12th and Vine – and then we played at an Italian restaurant called The Inferno. We also played in the Street Hotel on 18th and Vine in Kansas City and the El Capitan Club (18th and Highland). (4) From there, we travelled up through Missouri to Springfield, Illinois, and then came back through Kansas City to Topeka."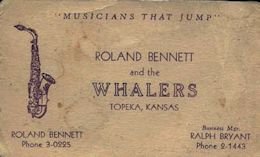 Other venues the band played included The Ballroom in Tulsa, Oklahoma; the University of Kansas (KU) in Lawrence, Kansas; and Kansas State University (K-State) in Manhattan, Kansas, for fraternity parties. The Whalers also travelled with a band from Texas named the House Rockers (5) and served on a couple of occasions as the backup band for the 'Delrays' a popular African-American vocal group from Kansas City. (6)
Naturally, as the popularity of the band grew, so did their publicity efforts. The band had posters made with their name and image, and most of the clubs where they played placed big advertisements in the local newspapers. The band also dressed uniformly. Dick Bennett explains, "Our first cousin who lived next door to us was a seamstress and she would sew our costumes and/or attire, which consisted of matching jackets and pants and ties. Roland as the leader would dress differently from the rest of the band. For instance, if we wore black suits, Roland would wear a white suit. However, all of our ties were (usually) the same and the ties matched the coats."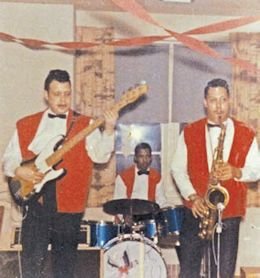 MUSICIANS THAT JUMPED
The band's impact on the community was positive and welcome. Dick Bennett notes, "We were popular and well liked because we were so versatile and could play all of it – jazz, blues, rhythm and blues and rock 'n' roll. We could also play for both old and young audiences." Bennett remembers that the band would get a lot of requests for certain songs as well as requests for autographs. Some of the popular songs the band played included: 'School Day' and 'Johnny B. Goode' by Chuck Berry; 'I Was So Wrong', 'You Don't Have To Go', 'Big Boss Man' and 'Bright Lights, Big City' by Jimmy Reed; and songs made popular by blues legends Howlin' Wolf and Muddy Waters.
Bennett recalls, "I would get a lot of requests for Muddy Waters' 'Got My Mojo Working'; and Howlin' Wolf's 'Smokestack Lightning' and 'Going Down Slow' – that was one of the most popular ones. I'd have to sing that about two or three times a night. The black audience liked that kind of carrying on. Sometimes we'd have a mixed crowd, so we'd start out playing rhythm & blues and rock'n'roll songs, and then after 12 o'clock midnight, I would come on with my harp and sing the blues. We also did Louis Jordan's stuff like 'Let The Good Times Roll'; yeah, we'd have to do that at least two times per gig." The band also played old standards like 'Tuxedo Junction', 'On The Sunny Side Of The Street' and 'I Surrender, Dear', for the older crowds.
Roland Bennett and the Rockin' Whalers belonged to the local black union and was paid $12 an hour per man back in the 1950s, with Roland getting $16 as leader.
Also, he acted as the manager and/or booking agent for the band. Competition from bands in the Topeka area was not lost on the Whalers. According to Dick Bennett, the band auditioned at the Rainbow Club in Topeka, a r&b club and was successfully booked to perform on Wednesday nights. But the crowd grew so big on Wednesday nights, the club owner booked the band for Friday nights too. Bennett explains the popularity of the band, "We could do all the r&b and rock'n'roll songs that were popular during that time and that's what the young people wanted." An early business card indicated that the Whalers (minus 'Rockin'') were "musicians that jumped."
One local band in the Topeka area that served as competition for the Whalers was the Buddy Brown Orchestra. Buddy Brown was a local bandleader in his sixties who fronted an eight-piece band that played jazz. Brown's orchestra was booked at the Rainbow Club for Saturdays, but the growing popularity of rock'n'roll and the Whalers who could play it took precedence, so the club owner moved Brown and his orchestra to Thursdays and booked the Whalers for Saturday nights. Soon, Brown and his orchestra moved a block down to the Talk of the Town club that catered to a more sophisticated audience that appreciated the jazz music they played. (7)
Other competitive contests took place in and around the Topeka area as well. Dick Bennett fondly recalls one particular Battle of the Bands held in Atchison, Kansas, in which the Whalers won: "We played in Atchison, Kansas, one hour east of Topeka and one of our popular places. The other group was from St. Joseph, Missouri. They were a seven-piece rhythm & blues band that also played rock'n'roll and a variety of songs. They were nice guys and really good musicians – a friendly bunch." Bennett remembers that one of the songs the Whalers played that night was Bill Doggett's 'Honky Tonk' with 'Eyes' Hagan on the Hammond B-3 organ.
The Whalers also played for the parties of white sororities and fraternities on the KU and K-State campuses, respectively. Dick Bennett recalls, "Oh, we played all those fraternities. We had that wrapped up. Yeah, 'cause those kids from Lawrence would call us. We stayed in Lawrence and Manhattan all the time. I remember going to K-State about four times."
Throughout the years, the band's personnel was fairly static. A guitar player was traded because regular guitarist Ralph Bryant, also the business manager, passed away after he suffered a heart attack in hospital; he was replaced by James Ellis. Dick Bennett notes, "We had several different drummers throughout the 1950s and 1960s, including Russell Thompson, Robert Bruce and Marvin Davis. We added our second cousin Zachary Scott on drums and Roland Jr.'s son, Roland Bennett III, on guitar in the 1970s, but Roland, Hagan and I were consistent."
During the daytime, Dick Bennett worked at Pelletier's department store; Thomas Hagan collected a disability pension; Herbert Shufford was retired military; James Ellis worked for the City of Topeka (but no longer lives in the area); and Roland worked at the Veterans Administration.
Roland Bennett and the Rockin' Whalers had standard gigs in Topeka every year. One of their annual gigs was on Christmas Eve at the Pleasure Mirrors, a local black social club. Dick Bennett would sing and play Charles Brown's 'Please Come Home For Christmas', and 'Merry Christmas Baby' as well as Chuck Berry's 'Run Rudolph Run', Bennett remembers, "They'd – the crowd – request 'Merry Christmas Baby' about four times on Christmas Eve – and I'd have to sing that. (8) The club members would sign us up for the next year before we left the club on Christmas Eve."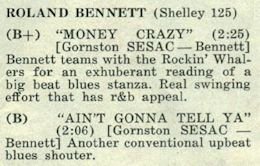 RECORDINGS
In 1960, Roland learned about Shelley Records of Huntington Station, Long Island, and met with label representative David Gornston in Kansas City, Missouri, while Gornston was at a musical convention. Gornston told Roland that if the Whalers could record a demo tape and send it to him, then he could press the records and send them back to the band in Topeka. (9)
After this arrangement was agreed upon, the band travelled to Kansas City, Missouri, to a recording studio and recorded the demo tape of 'Money Crazy' (vocalist Sweet Root) and 'Ain't Gonna Tell You' (vocals by Hagan on this one). (10) Soon, a box of 45 rpm singles arrived in Topeka and the record was played on KJAY, a local radio station. A review of the record that appeared in Cash Box magazine on January 28, 1961, proclaimed, "Real swinging effort that has r&b appeal." (11)
The band did not sell the 45s from the bandstand at gigs but rather relied on record stores getting the records through distributors following local airplay. Dick Bennett remembers, "Yeah, they played it here in Topeka and in Lawrence, but nothing else happened with it, but people were buying the record." He recalled in particular that the record was placed on a jukebox located in a downtown beer joint at 13th and Monroe in Topeka.
Roland Bennett and the Rockin' Whalers then recorded on the Vantage label out of Albuquerque, New Mexico in 1963. (12)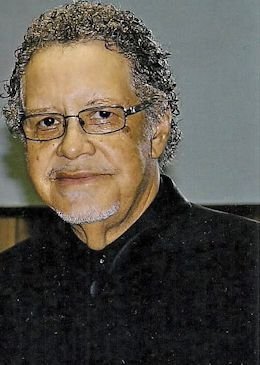 Dick Bennett recalls, "The band was playing at the Municipal Auditorium in [downtown] Topeka, Kansas, at a local musicians union function. Gene Humphrey, a local disc jockey who owned the Vantage record label, heard me playing my harp like the blues singer Jimmy Reed and wanted to know more about the band." Humphrey expressed an interest in recording the band on his label, so the band (same personnel as for the Shelley session) travelled to Kansas City to a recording studio with Humphrey and recorded 'Tore Up' and 'Little Wheel'. The record was popular all over the Topeka, Lawrence, and Kansas City area and the local radio stations would play both of them on the radio one right after another. "Every night they played 'Little Wheel', 'Tore Up' and 'Money Crazy'," says Dick Bennett. "They played both sides of each record on the radio and had requests for it every night, so we got to listen to ourselves for a long time."
When the band would play those songs live, the crowds would hit the floor. Dick Bennett recalls, "I would sing in a Jimmy Reed voice, 'Let me be your little wheel baby till your big wheel comes. I can do more rolling than the big wheel ever done', and then I'd blow my harp. (13) You see, the harmonica was different and nobody could play the harp around Topeka. I was the only harp player around here and I picked that up when I went in the Army from Pop Billings. And a lot of people would come to see me play it because they had few harp players around, especially those copying Jimmy Reed like that." in Topeka throughout the 1970s. While the band continued to play many of the blues, r&b and rock'n'roll classics they were known for, they also incorporated funk and soul music into their repertoire.
Dick 'Sweet Root' Bennett has nothing but good memories about his time playing and singing as a member of Roland Bennett and the Rockin' Whalers band: "Oh yeah, we had a good time travelling and a good time playing. We enjoyed practicing and meeting different people. We stayed busy three nights a week and lasted throughout the 1950s, 1960s and the 1970s before disbanding in 1980." The Rockin' Whalers stopped performing when the band members were getting older and the music scene was ever-changing. Dick Bennett now plays the harmonica and sings in the Baptist church.
DISCOGRAPHY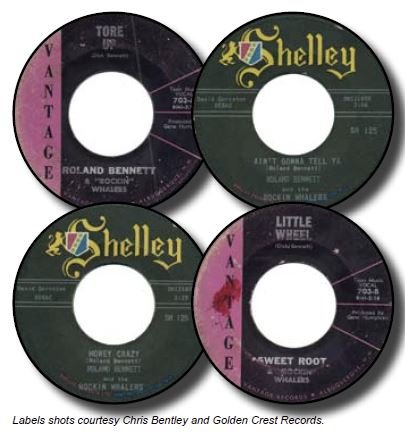 Roland Bennett and the Rockin' Whalers: Roland Bennett (ts) Dick 'Daddy Sweet Root' Bennett (v-1, h-2, b) James Ellis (g) Thomas Hagan (v-3, p) Herbert Shufford (d) Kansas City, Missouri, late 1960
SH121601 Money Crazy -1 Shelley 125 / Ain't Gonna Tell Ya -3
Ace CDCH2 1254 SH121602
Roland Bennett & Rockin' Whalers (Same personnel) Kansas City, Missouri, 1963
45-703-A Tore Up -1 Vantage 703
Sweet Root & Rockin' Whalers (Same personnel except no ts)
45-703-B Little Wheel -1, -2 Vantage 703
About the author
Dina M. Bennett is a teacher, musician, educator, scholar, ethnomusicologist, and the youngest daughter of Dick 'Sweet Root' Bennett. A native of Topeka, Kansas, she earned her Ph.D. in folklore and ethnomusicology from Indiana University in Bloomington. Specialising in jazz and blues research, Dina is an accomplished pianist. In September 2011, she was appointed director of education at the B.B. King Museum and Delta Interpretative Center in Indianola, Mississippi.
Special thanks to:
Dick Bennett, Dina Bennett, Chris Bentley, Corey Baird, Allan Bell, Martin Bentley, Rex Doane, Donn Fileti, Shelley Galehouse, Chuck Haddix, Jim O'Neal and Victor Pearlin.
Notes by John Broven
1. Pop Billings appears to be unknown as a recognised bluesman. (back)
2. Dick Bennett remembers only Bun's first name as Barbara. (back)
3. For a lively account of entertainment strips in black neighbourhoods, see 'The Chitlin' Circuit and the Road to Rock 'n' Roll' by Preston Lauterbach (W.W. Norton & Co., 2011). (back)
4. According to Chuck Haddix, "The Orchid Room was located in the rear of the Vine Street Tavern at 12th and Vine. It was a regular stop on the r&b circuit – everybody played the Orchid Room. The El Capitan was located on 18th Street just east of Vine; Charlie 'Bird' Parker played the El Capitan." Haddix is an archivist at University of Missouri-Kansas City, and author with Frank Driggs of 'Kansas City Jazz: From Ragtime to Bebop – A History' (Oxford University Press, 2005). (back)
5. Despite further questioning, Dick Bennett is unable to give any information on the 'House Rockers'. (back)
6. Likewise, Bennett can add nothing about the Delrays (Del Rays or Del-Rays) from Kansas City, except that "they sounded like the 5 Satins." He did say, however, that the Rockin' Whalers backed the group on record. The act appears to be unknown to leading Kansas City and doo-wop researchers. (back)
7. Jim O'Neal: "I found a couple of newspaper references to the Buddy Brown Orchestra playing at black society affairs in Topeka in 1950 and 1960, and one to Brown playing trumpet in Forrest Slaughter's band in a jazz programme at Washburn University in Topeka in 1955." (back)
8. 'Merry Christmas Baby' had been a perennial Christmas r&b hit since 1947 through the recording by Johnny Moore's Three Blazers with vocals by Charles Brown (Exclusive 254). Chuck Berry coupled 'Merry Christmas Baby' with 'Run Rudolph Run' (Chess 1714) in 1958. (back)
9. Shelley Galehouse remembers David Gornston (1905-1969) as a member of the Golden Crest Records staff at Huntington Station, Long Island in the 1960s. A noted music educator, he ran the small Yorkshire label and David Gornston Music, which published both sides of the Shelley 45. The principal Golden Crest business was the Shelley Products pressing plant, which meant it was easy for Gornston to arrange for the Roland Bennett 45s to be pressed. Another Kansas City signing by Gornston for Golden Crest was sax honker Big Bob Dougherty, who had a rare LP, 'Big Bob from K.C.' and three singles. (back)
10. At the end of the opening banter on 'Money Crazy', owing much to Louis Jordan, – presumably between Roland Bennett and 'Eyes' Hogan ('Eyes' is mentioned by name) – there's a cry of "Sweet Root, what's on your mind today, daddy" followed by the vocal, thereby confirming 'Sweet Root' as lead singer. Try as he may, Dick Bennett is unable to recall the name of the Kansas City recording studio. According to Jim O'Neal, "Kansas City had one of the primary recording studios in the Midwest, Damon Recording Studios, which was first known as Damon Transcription Laboratory when it was founded in 1933. There was also some sort of municipal recording facility fairly early on. There were several other studios in town later and I know that Midwestern Recording Studios, which had the Central label, was advertising by 1956." Chuck Haddix added that he checked "Vic Damon's recording log and found no mention of any of the artists listed." (back)
11. 'Money Crazy' is the only Roland Bennett and the Rockin' Whalers track to be officially reissued, on 'The Best of Golden Crest' double CD (Ace CDCH2 1254). For more on the Golden Crest/Shelley Products operation, see my book 'Record Makers And Breakers'
(University of Illinois Press, 2009). (back)
12. See Chris Bentley's 'Chris's Curiosities' No. 57, B&R 244, November 2009. Chris adds that the Delta press at 47887 dates the record to "somewhere in the summer of 1963". (back)
13. 'Little Wheel' is the title of a song recorded by John Lee Hooker (Vee-Jay 255, 1957). Dina Bennett adds: "'Little Wheel' is an original composition by Dick Bennett; it is not the same song as recorded by John Lee Hooker. However, both songs do make use of what is known in African-American music (spirituals, blues, jazz) as the 'wandering couplet,' meaningful and expressive lines distilled from double entendre and African-American vernacular English, couplets that may be borrowed from other songs and inserted in another. In this case, the wandering couplet is: 'Let me be your little wheel baby till your big wheel comes. I can do more rolling than the big wheel ever done.'" According to Chris Bentley, 'Tore Up' follows the same hand-me-down traditional pattern: "It is indeed the Hank Ballard/ Harmonica Fats song, but a very loose version without the first verse and just the chorus line retained." (back)
Listen to Roland Bennett here
"Money Crazy" from "The Best of Golden Crest" (Ace CDCH2 1254).