Another Golden Crest group mystery solved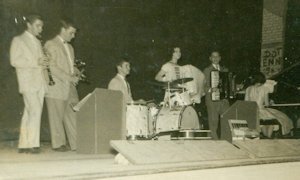 On September 9, 2012, John Broven gave a presentation on Golden Crest Records as part of The Long Island Museum's exhibition, "Long Island, America's 1950s Frontier," at Stony Brook. Imagine his surprise when, in question time, a member of the audience said, "I recorded for Golden Crest with the Seven Teens." And so thanks to John Alessio of Centerport, L.I., another Golden Crest group mystery has been solved (see The Montells and Roland Bennett & the Rockin' Whalers).
As it happened, "The Best of Golden Crest" Ace double-CD with the Seven Teens' hook-laden novelty song "Bug Out" was on hand to the delight of the assembled gathering. Here was a precursor of the teen angst that would be popularised by the Shangri-Las in 1964.
Thus, the Seven Teens can be revealed as comprising: Liz Cromwell, vocal and piano; Mary Ann Coshignano, vocal and accordion; Emil Gatto, oboe and accordion; Fran Osso, guitar; Bill DeMao, clarinet; John Alessio, trumpet; Mike DeMao, drums.
From the instrumental lineup and the accompanying photos, it can be seen the group was a teenage dance band and not hip rock 'n' rollers or doo woppers. "We all took lessons at Gatto's Music Studio at New York Avenue, Huntington Station," said Alessio. "Mr. Gatto would form groups and have a recital at a local school for all his students. We played at school dances, weddings and club functions." A regular gig was at a bar and restaurant in Ronkonkoma on Sundays afternoons performing standard songs "for free lunches."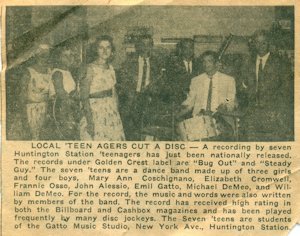 According to Alessio, Mr. Gatto knew Clark Galehouse of nearby Golden Crest Records at 220 Broadway, Huntington Station and arranged for the group to be recorded. "Bug Out" was recorded first at the in-house Shelley Products studio, probably in late 1957, said Alessio, who described Galehouse as "very businesslike" in the studio. Although the song had commercial potential, the sound was not the best and so a follow-up session was arranged in New York, yielding the single's "A' side: the teen ballad "Steady Guy." Alessio cannot remember the name or location of this studio, but does recall seeing disc jockey Alan Freed and Bobby Darin there. This would have been prior to Darin's first big hit, "Splish Splash" (Atco).
The teenagers were all students at Robert L. Simpson High School (now Huntington High School). An article in the high school's newspaper, The Devil's Mirror, dated May 1, 1958, asked, "Have you heard of the 'Seventeens' [sic]? They MAY make Simpson famous!" The piece continued: "This dance band … is about to wax its first demonstration record May 3rd, on Crest [sic] label. This disc will be used as a sample that the 'Seventeens' will take to New York. If the record is a success our 'rock 'n' rollers' will then cut some discs on a popular label, thus putting Huntington on the musical map. The combo's first platter features 'Steady Guy' on one side and 'Bug Out' on the flip. Both songs were composed by the teenage members. … Another attraction that puts the 'Seventeens' up with the 'pros' is the fact that they have two girl singers with them. The two vocalists are Mary Coshignano and Liz Cromwell."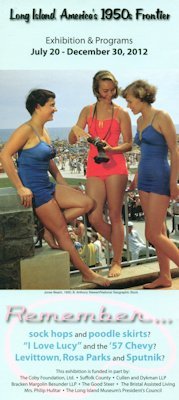 It seems as if the May 3 demo was a tryout for "Steady Guy," with "Bug Out" already in the can. The reference to "a popular label" implies that a big New York record company may have been interested in the group.
The Seven Teens' record was mastered on May 28, 1958, and released shortly afterward. A subsequent press clipping from The Long-Islander newspaper, of Huntington, indicated that the "record has received a high rating in both the Billboard and Cash Box magazines, and has been played frequently by many disc jockeys." The Billboard review appeared on July 21.
Despite the radio plays, the record did not make any charts. "It was all over so quickly," said Alessio's wife Barbara. With little sales action, there was no call for a follow-up. Due to college and other commitments, "the group just drifted away," said Alessio.
Now thanks to The Long Island Museum presentation, many pleasant memories have been revived for him and his wife.
Here is yet another story of the opportunities presented to musically inclined teenagers in the rock 'n' roll era. With a little luck, "Bug Out" or "Steady Guy" could have been joining "Splish Splash" in the national charts of summer 1958, or vying with another Long Island teen group, the Aquatones, who were scoring with "You." But the Seven Teens' dream was not to be.
John Broven
The Seven Teens recordings on CD:
"Steady Guy" (Golden Crest 503): "Teen Scene! Rock 'n' Roll Stars and Vocal Groups from Long Island's Golden Crest and Shelley Records" Dee-Jay Jamboree (Germany) DJ-CD 55113
"Bug Out" (Golden Crest 503): "The Best of Golden Crest" Ace (U.K.) CDCH2 1254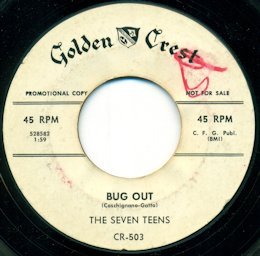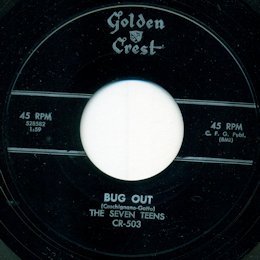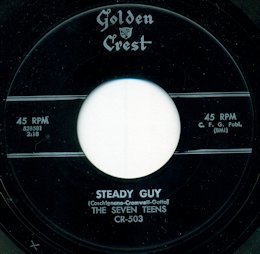 Listen to The Seven Teens here
"Bug Out" (from "Best of Golden Crest")
"Steady Guy" (from "Teen Scene!)